BBB's 12 Scams of Christmas
Look-alike websites: When shopping online, make sure to use only legitimate websites. Watch out for URLs that use the names of well-known brands along with extra words.
Fake shipping notifications: These can have attachments or links to sites that will download malware on your computer to steal your identity and your passwords. Don't be fooled by a holiday phishing scam.
E-cards: Electronic cards can be great fun, but be careful. Two red flags to watch out for are: the sender's name is not apparent; you are required to share additional information to get the card.
Letters from Santa: Several trusted companies offer charming and personalized letters from Santa, but scammers mimic them to get personal information from unsuspecting parents. Check with bbb.org to find out which ones are legitimate.
Grandparents scam: Be cautious if you get a call from a family member or friend claiming to be in an accident, arrested, or hospitalized while traveling in another country. Never send money unless you confirm with another family member that it's true.
Phony charities: Everyone is in a generous mood at the holidays, so scammers take advantage of that with fake charity solicitations in email, on social media sites, and even by text. Check out charities at give.org before donating.
Temporary holiday jobs: Retailers and delivery services need extra help at the holidays, but beware of solicitations that require you to share personal information online or pay for a job lead. Apply in person or go to retailers' main websites to find out who is hiring.
Unusual forms of payment: Be wary of anyone who asks you to pay for holiday purchases using prepaid debit cards, gift cards, wire transfers, third parties, etc. These payments cannot be traced and cannot be undone. 
Free gift cards: Beware of pop-up ads or emails offering free gift cards, and avoid discount and online auction sites, as gift cards there may be counterfeit or stolen.
Social media gift exchange: It sounds like a great deal; buy one gift and get 36 in return. But it's just a variation on a pyramid scheme and it's illegal
Puppy Scams: Be very careful when buying pets online, especially during the holidays. You can end up with an unhealthy puppy from a puppy mill, or nothing at all because that dog never existed and it was all a scam. Always research where you are buying the dog from and never wire any money. Be sure to pick up the puppy in person instead of paying someone to ship it.
Fake coupons: If a coupon shows up in your inbox that seems too good to be true, it probably is. Many retailers do send out coupon codes during the holidays to entice you to visit their websites. However, if the coupon seems to be for some outrageous discount, make sure to contact the sender before you click "redeem."
---
Holiday Skip-A-Pay Is Back!
Skip Your Loan Payment In November, December or January
Free up some extra cash this winter by skipping your qualified United Community FCU loan* payment. Taking advantage of our Skip-a-Payment program is easy! Simply fill out the coupon below and return it to us prior to your loan payment due date. You may enclose payment of the $35 processing fee per loan or select which share account you would like debited for the processing fee.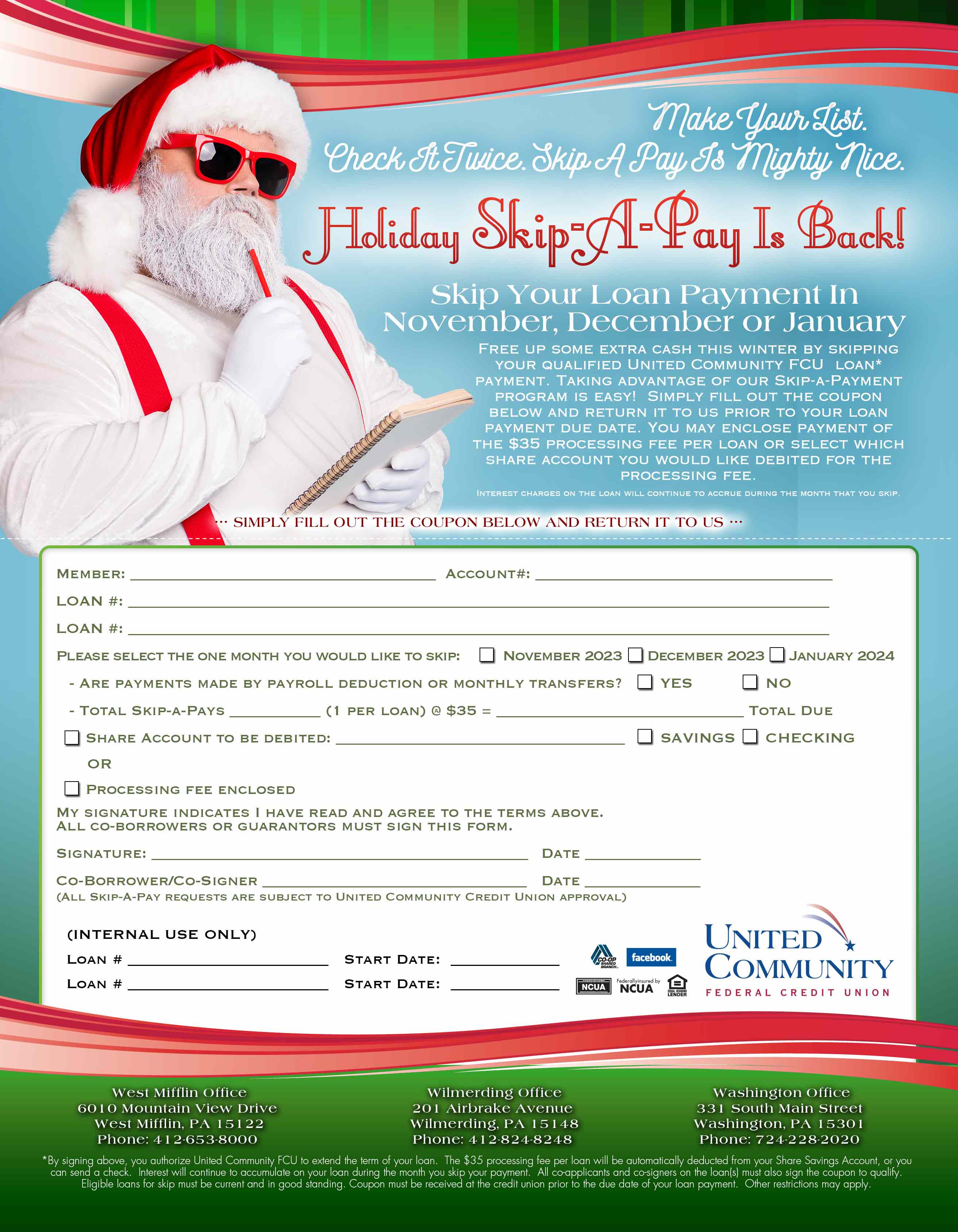 ---
Congratulations To Our Back To School Photo Contest Winners
Congratulations To Our Back To School Photo Contest Winners We loved seeing your back to school pictures and wish you all a great year.
Congratulations are in order for the winners:
1st Place: Matt B. Family
2nd Place: Carrie K. Family
3rd Place: Mallory P. Family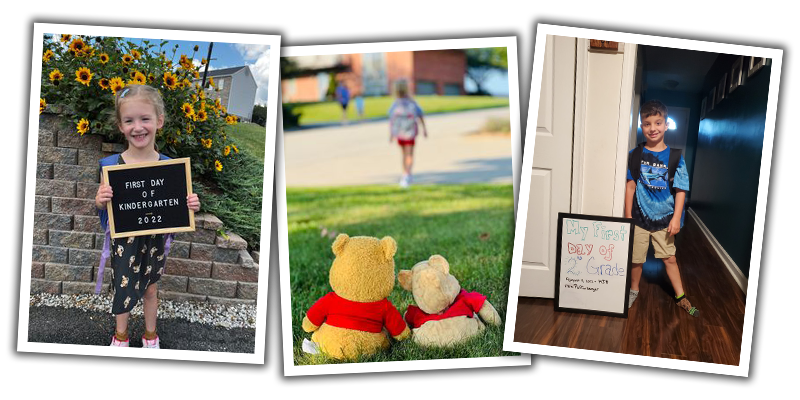 ---
WELCOME TO UNITED COMMUNITY FCU!
Account holders will continue operating as they do today. There are no changes at this time to account numbers, transactions, Home Banking access, bill pay, debit cards or Credit Union phone numbers.
Members can now access their accounts in person at United Community FCU in West Mifflin, Wilmerding & Washington, as well as through the Shared Branching Network.
The official data processor conversion will take place on April 1, 2022. Watch your mail & publications sent over the next few months for information on what to expect to ensure the smoothest transition possible. Thank you for your cooperation & welcome to United Community FCU.
---
EMV Chip Cards
What You Need To Know!
Your new UCFCU chip card is your debit card containing an embedded computer chip, which provides the ability to securely store and process data and provides increased protection against lost, stolen or counterfeit card fraud.  Chip technology is the next evolution of electronic payments, and is helping to make an already secure payment system more secure. 
What are the benefits of the chip card to UCFCU members?
Consumers have a lot to gain from the migration to chip technology.  Benefits include:
-Added security
-Chip cards are difficult to copy, steal or counterfeit
-Chip cards securely store and process data
Will my account number change?
No.  Your account number will not change.  The expiration date on your new card will be updated, so you may have to contact or edit any merchants / billers and provide your new card information for any recurring or scheduled electronic payments.
Do I need to activate my new card?
Yes.  Once you get your new card, you will need to activate it immediately by following the instructions that will be included with the card.  Your old card will be deactivated as soon as you activate your new card.  Please destroy your old card once you have activated your new card.
What information is stored on my chip card?  Is it secure?
The information stored on the chip is the same that is currently stored on the magnetic stripe.  The chip generates a one-time transaction code, instead of your card information.  This makes the card difficult to counterfeit or copy.
Will chip card transactions be conducted differently than magnetic stripe transactions?
Members can expect to see minor changes when conducting a chip transaction at a chip-enabled terminal:
-You will insert your card into a device or terminal rather than swipe it.
-You will leave your card in the device for the duration of the transaction.
-Simply follow the prompts on the terminal screen.  The screen will authorize you to remove the card when the transaction is complete.
Is the magnetic stripe on the card being eliminated?
No.  The magnetic stripe will remain on your new UCFCU Debit Card to allow members to use cards at ATMs and store terminals that have not yet been upgraded, and in countries that have not been migrated to chip technology.
Where can I use my chip card?
Chip cards will continue to have a magnetic stripe so the card will work at non-chip terminals.  You can also use your chip card anywhere Visa cards are accepted (in stores, online, over the phone and at ATMs).
---
UCFCU Will Never…
Please be aware that United Community FCU will never ask a member via email or text to give us personal information about themselves or their account. You should never provide your personal information to links sent to you through email or text messages. Notify a United Community FCU staff member immediately if you suspect someone may have your information or suspect fraud of any type.
---
Visit FBI Website To Keep Up-To-Date On Latest Scams
This is a great site to visit often to keep on top of today's common fraud schemes. This site also provides tips for on how to detect and avoid becoming a victim of various scams. Visit this website for real time scam information:
https://www.fbi.gov/scams-and-safety